02 Mar

Short & Stylish Wedding Dresses from Essense of Australia

Essence Of Australia, style D2101: This stunning knee-length wedding dress features lace and tulle with enchanting detail. You will adore the gorgeous illusion neckline and matching back, as well as the Diamante encrusted band at the waist. This flirty and fabulous wedding dress is perfect for your warm-weather ceremony. Available detail colors: White Lace, Blush Lace or Ivory Lace. Available fabric colors White Tulle over White Gown, Ivory Tulle over Almond Gown, Ivory Tulle over Ivory Gown. Available in plus sizes.

Charlotte's favorite bridal salon, New York Bride & Groom, welcomes you and your bridal party for an unforgettable shopping experience. We have thousands of square feet of exquisite dresses from the industry's top designers for you to explore. Our friendly and attentive team will help you select the bridal gown and wedding accessories you need to create the perfect head-to-toe look.

Among the dresses we're excited to showcase are the gorgeous short (tea-length) styles from Essense of Australia. These glamorous gowns are perfect for a warm weather wedding. They're available in plus-sizes too.

If you're looking for some advance tips to help you maximize your bridal shopping experience, see below:
Bring Your Accessories

While most salons will have shoes and a slip-on hand for you to try on with your gown, you should still come prepared with a nude bra and underwear for the fittings.

Shop at the Right Time

Saturday afternoons are the most popular times to shop for a wedding dress, which actually makes them the worst. Instead, consider taking off a half day from work to shop on a random Tuesday or Wednesday morning when it's likely to be less crowded. Not only does a calm store mean a more personalized shopping experience, consultants will also most likely be fresher earlier in the day and able to offer you more of their attention. If you're shopping a sample sale, do yourself a favor and skip the first day. Call ahead to ask how many days the sale will run, then go a little later in the week—don't worry, there will still be plenty of inventory. Another shopping trick: Skip the entourage. It may be tempting to include all your friends in this experience, but too many people adds up to too many clashing opinions. Keep reading, compliments of The Knot
Essence of Australia, style D2498: Romantic and dreamy, this tea-length A-line wedding dress features delicate lace cap sleeves and a flaring organza and tulle skirt. It has an illusion back with centered buttons over a hidden zipper.  Clear beading creates a soft twinkle. Available in numerous colors. Available in multiple sizes.
Don't Worry, We Got This
It's totally fine if you have no idea where to start when it comes to your bridal shopping. That's what we're here for. We will keep you from feeling overwhelmed, so take a deep breath and relax and leave the details to us. Our supportive team of professional bridal consultants will help you enjoy the uplifting and unique bridal shopping experience you deserve. Get more wedding dress shopping tips below:
Brush up on dress terminology 101.

Taffeta, tulle, illusion – oh my. It's helpful to speak the same language as your consultant, and you may not have looked at designer dresses in a while (cotillion and prom were many moons ago!). As you're pulling pictures from Pinterest, be sure to check out the terminology behind the looks you love.

 Factor in extra costs.

Don't forget about the price tags on alterations and accessories when planning your budget. The perfect shoes, veil, and belt can be more expensive than you expect. Be sure to ask the salon about their alterations policies and pricing, too. You'll need to factor in those costs into your gown-shopping budget. Read more, compliments of Southern Living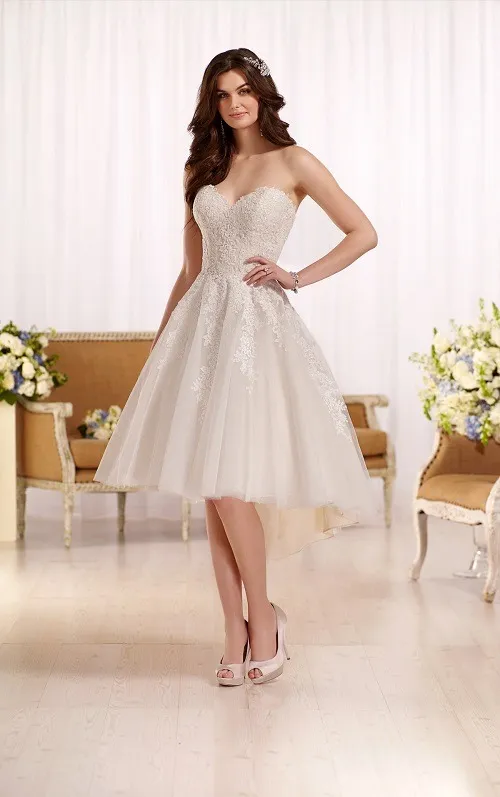 Essence of Australia, style D2189: This organza, lace and tulle short wedding dress is full of magical details. The high-low skirt and elegant sweetheart neckline create a captivating silhouette. Choose from either a zipper closure or a corset option. Available in numerous colors. Available in plus sizes.
Short Wedding Dresses Are Fun & Practical
Knee-length and tea-length wedding gowns are a flirty, fun way to showcase your legs and/or shoes. Strappy sandals, cowboy boots, stilettos and high-heels all change the look and feel of your wedding vibe. You also may want to invest in some snazzy flats to change into for dancing the night away. Check out these short wedding dress tips below:
Pair your short dress with a high heel.

Claudia Hanlin of the Wedding Library finds that most brides are used to wearing short dresses, so many women choose to trade in their long, layered gowns for something cocktail-length for the reception. If you're changing into a shorter number for the reception, you may need a change of shoes, too. Shorter styles often call for something a little more playful, and a high heel will show off your legs. Of course, Hanlin says to consider your own comfort level. If you're wearing heels for the ceremony and are nervous you won't be able to dance in a pair, too, swap them for a fancy pair of flats.

Have fun with it.

Hanlin notes that many brides get really excited about changing into a shorter, more casual dress as the night progresses. Where a bride may have started off with something more traditional for the ceremony and the beginning of the reception, she might opt for something totally different that includes feathers or sequins or some detail that she wouldn't otherwise have incorporated in her outfit. She says, "I think [changing into a shorter dress] actually gives girls confidence to go a little crazier and have fun with it." Read more, courtesy of Martha Stewart Weddings
NYB&G Is Your One-Stop Wedding Shop
In addition to offering an unmatched range of wedding gowns, including plus-size options, we have a separate men's department with tuxedo rentals and custom suits. We carry an amazing selection of wedding accessories, and a wide variety of bridesmaid dress styles are available through our website. You can dress every member of the wedding party at New York Bride & Groom of Charlotte.