15 Jul

These Wedding Dress Options Are Game Changers

What makes a wedding dress stunning? Is it the color? The style? The design? The answer is different for different people. You have probably been dreaming about your perfect dress for as long as you can remember. No doubt, everything about it fits your specific preferences. Even so, there may be other details that you fall in love with as you shop for your ideal wedding dress. These special touches can make all the difference.
One item that has made a return to the wedding scene is the veil. All of the top wedding dress designers are bringing them back to their collections and they are sure to turn up at weddings everywhere over the next year and beyond.
A range of veils were spotted on the runways this season. Old World veils showed at Commes De Garçons and at Simone Rocha in heavy, near-opaque, lace iterations. Rodarte also flitted back in time with 1940s dress silhouettes and netted veils to boot. Brock Collection featured delicate, near-gossamer veils that covered the entirety of each model's face, and tied off at the neck. Veiled crystal and metal headpieces paired with non-bridal looks were seen at Giambattista Valli and Paco Rabanne respectively, attesting to the fact that veils aren't just for getting married anymore. The amalgam of veils in a range of materials, spanning from times of yore all the way into the future, clearly sent the message that veils, in all their forms, are ready for the here and now, wedding or not. Read more at Vogue…
You'll be glad to discover the range of options you have for veils. So, you are sure to find one that perfectly suits your dress.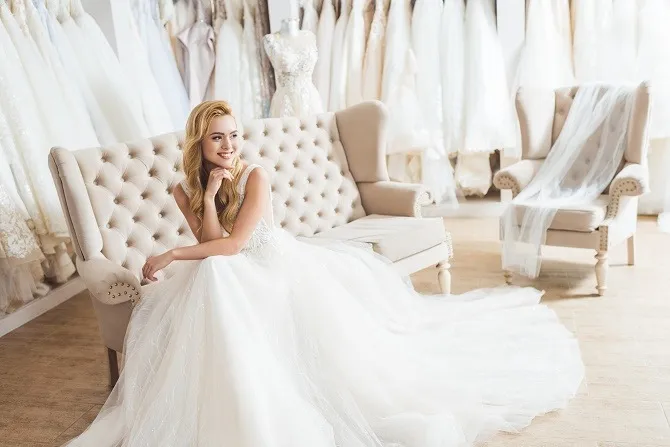 Another potential component of a stylish wedding dress is the train. Have you ever wondered how you should go about choosing the best one for your wedding? Or, perhaps you are thinking of doing without one altogether. Either way, here's some help:
The train is the extra fabric that extends from the back of your wedding gown. It is meant to trail behind you as you walk down the aisle and can be a part of your skirt, a detachable piece, or even attach to your shoulders like a cape. You may already have an idea of what type of train you want, but there are a few things to consider before shopping.

Where are you getting married? The setting of your wedding has a significant impact on what type of train you should choose. Indoor weddings can get away with much longer train lengths. However, you may want to opt for a shorter style, so it doesn't drag on the ground at an outdoor ceremony. Read more at Galia Lahav…
You have probably noticed already how your decisions intertwine. For example, the venue helps to dictate the style of your dress. Your dress sets the tone for your jewelry and accessories. And it goes one from there, with each decision guiding another. Keep this domino effect in mind as you make your choices.
Getting back to style options…what about sleeves? If you have paid little thought to the idea, you may want to reconsider after seeing these choices:
These are the 21 Wedding Dresses with Unique Sleeves on our Lust List

We're here today to talk about one thing: wedding dress sleeves! That's right, friends. Unique gown sleeves are catching our attention left and right, from intricately embroidered designs to dramatically poetic fabric. And we have been aching to share our faves with you. So if you consider yourself a fan of the unexpected, get ready to be wowed by the 21 modern wedding dresses to come in 3…2…1. Read more at Ruffed…
If all of these options make the idea of choosing your perfect bridal gown seem overwhelming, remember that these are just ideas to consider. You will eventually see "the dress" and it will make the decision easy.
If you are looking for the bridal shop in Charlotte, NC that's guaranteed to have the best selection of designer wedding dresses, it's New York Bride & Groom. We carry everything from stunning boho wedding dresses to exquisite plus-size gowns. Additionally, our expert bridal consultants are here to help you every step of the way. We never require an appointment to shop so stop by anytime it's conventient. We look forward to serving you soon.