09 Jul

Your Wedding Dress Is A Crucial Piece of The Puzzle

The preparation that goes into your wedding day can be intense. You'll quickly discover the hidden strengths and weaknesses that you never knew you had. Hopefully, you'll become a better planner and even find out what you love to do as well as what you absolutely hate doing. Consider it a journey of self-discovery.

Before you settle for any wedding dress, keep in mind that it forms part of the bigger picture. If you want to make your wedding beautiful, all the different parts need to fit together. Then your wedding dress will be the cherry on the cake that no one will miss!

One of the first things to consider is the kind of person you are. This is important because you want a wedding that makes you happy.
Here's the good news: It's totally possible to ditch these stressors and plan a wedding that suits your and your partner's personalities.

The bad news? This probably won't happen by default. The moment you start planning a wedding, people unleash a host of expectations on you.

Fortunately, by gaining an awareness of your personality type and your partner's, you can figure out what matters to you – not your mother-in-law, your caterer, or your next-door neighbor… or even the random stranger who just eavesdropped on your conversation about tablecloths. Read more at 16 Personalities…
After all, it is your wedding and most likely, you'll only get to do it once. Why should everyone else be happy except you?
The next thing you need to think about is: what's your style?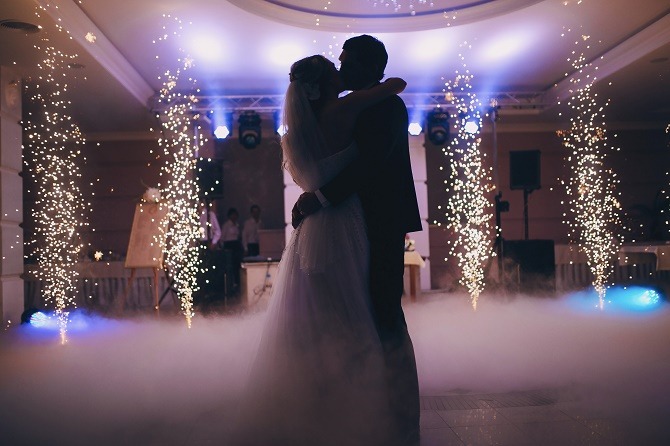 1. Romantic
Soft hues, delicate lighting, and plenty of florals typically make up a romantic wedding. For this theme, envision pastels, hanging lights (even chandeliers), calligraphy, and a flower wall.

2. Alternative
More of an offbeat couple who's never been one to take the normal route? We get you. Buck tradition with an alternative wedding theme, and roll with it however you see fit. If cool, moody color palettes and creative stand-ins match your style better than bright floral and been-there-done-that wedding décor, then an alternative theme has your name written all over it. Push the boundaries as much as you want… Read more at Brides…
The overall theme of your wedding will set the tone for the entire event. The decor, the finishings, and the colors will all find their place.
Once your theme and venue are decided, you can then go on to select a wedding dress that corresponds to it.
#1: Remember that it's all in the details
One of the easiest and most subtle ways to ensure a bridal style that's cohesive with the dreamy wedding scene is to consider the details of the dresses you're looking at. Galia Lahav is an expert in this arena with intricate embroidery, 3D appliqués, charming motifs and sparkly embellishments that can all hark back to your venue (which is why we always recommend a non-rushed site visit to explore those ins and outs of the space you're getting married in… and all the pretty details in between). Read more at Ruffed…
You're probably getting excited at the great ideas going through your head by now. You can drop all those ideas that were not sitting well with you. Choose what you as a couple will enjoy the most.
There's more good news. You don't have to go too far to get your dream dress. Here at NY Bride & Groom in Charlotte, NC we have a collection of over 1000 hand-selected bridal gowns. We also feature an array of beautiful plus-size bridal gowns, a separate grooms' department for custom suits and rental tuxedos, and a range of wedding accessories to finish any look.