10 Aug

Pick A Wedding Dress For Your Unique Body Shape

Almost every woman will at some point in her life feel insecure about her body. Learning to embrace and even celebrate the things that make our bodies unique is a crucial aspect of forging a healthy self-image. One of the ways we can do this is to spotlight our one-of-a-kind body structures through the clothing we choose. The right apparel will highlight our best features and downplay any problem areas and make us feel beautiful in the process. In this post, we will discuss capitalizing on your body shape through your choice of wedding dress.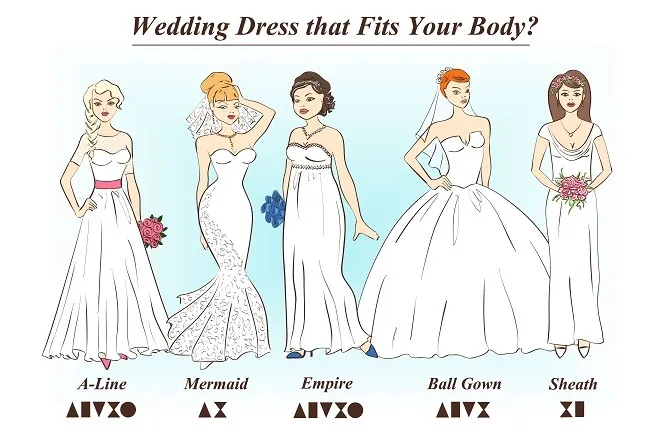 If you are a busty lady, you don't have to settle for discomfort on your big day. The following tips should help you get a comfy dress.
Dress Alteration for Larger Bust Size
We spoke earlier about the importance of a bra, but many women may simply not like the idea of having to constantly hide a bra or add extra layers to their dress. The good news is that you might be able to have your cake and eat it too. A great way to have support without the added layer of a bra is to alter your wedding dress. There are plenty of services out there that can incorporate a bra into the dress itself. This is often as simple as adding cups to your chosen dress, thus acting as a concealed bra.

Neck-Line Dresses
If you're not too keen on showing cleavage during your big day, you might want to stay away from V-shaped wedding dresses. Instead, look for a wedding dress that includes a high neckline. Doing so will allow you to conceal much of your breasts and can even be the perfect excuse to add some added support such as a bra or corset, to name a few. Read more at B.Loved Bridal Boutique…
If you prefer a sleeveless dress, you may want to go for a bridal gown with wide straps. You can also opt for a dress with lacey sleeves if you have shy arms.
If your hips are an asset, they should certainly feature in your stunning bride look. Here is some advice for you.
You have: Narrow shoulders, a small bust and a generous bottom half.

Go for… The ball gown was made for you (with lots of love!). The ball gown is the quintessential wedding dress and perfect for the Princess Bride – a formfitting corset or bustier highlights your slender top half, gives support and creates shape for small busts. Heavier fabrics will add depth and to the top half to balance proportions, as will embellishments and floral applique. You are also one of the lucky few who can wear a plunging neckline and an empire line that falls below the bust and flows gently over your curves will look stunning. Disguise a bigger bottom half with a full ball gown skirt that flares from the waist or hips, or a show-stopping train.

Avoid: Styles that are fitted from the waist down. Read more at The Carousel…
On the other hand, if you have a classic hourglass shape, pick a dress that doesn't hide your amazing waist. Also, it should accentuate your bust and hips to make you look stunning.
Here are more ways to get the most from an hourglass figure:
You have an hourglass figure if you have a wide bust, narrow waist, and hips that are a similar width to your shoulders. Show off your curves with a flirty and feminine wedding dress style, like a mermaid silhouette. A fitted bodice with a skirt that flares at or below the knee will accentuate your waist and maintain the balanced look of your figure. This wedding dress style evokes an ultra-sexy vibe by bringing attention to your curves in a flattering way for an Old Hollywood glam effect.

Personalize it! Adding embellishments, such as beading or crystals, is a fun way to draw attention to your amazing curves—especially if they are sewn in a design that draws the eye from the bodice down to the flare of your skirt, elongating your figure. Read more at Wedding Wire…
These are just some basic tips for dressing for your body type. Our team of seasoned bridal consultants at New York Bride & Groom of Charlotte know all when it comes to helping women of all shapes and sizes look and feel their very best. We have the largest selection of designer wedding dresses of every silhouette. Our consultants will guide you to the ones that are perfect for your unique body form.