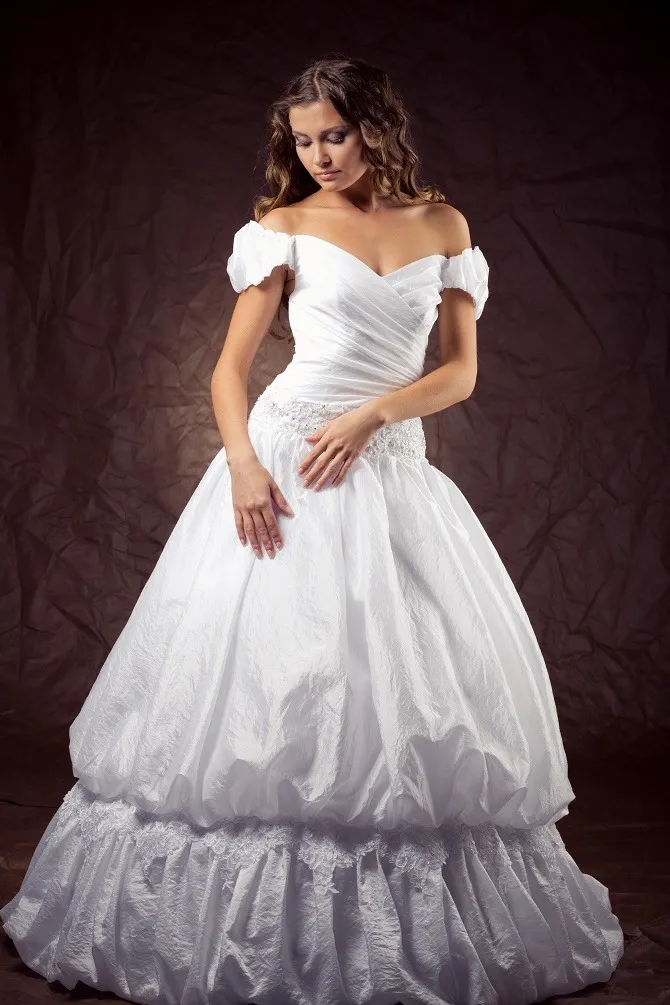 21 Sep

Wedding Dress Sleeves – What Are Your Options?

The various elements of a wedding dress are uniquely important because they all play a special role in the final look. These parts include the neckline, bodice, skirt, and even the sleeves. As you select your wedding dress, you need to be clear about what works for you in terms of these details. In this blog post, we look at the types of sleeves that you might consider.
First of all, let's look at the long-sleeve styles that are trending for wedding dresses. Which one do you fancy?
For the bride that loves a clean and classic long sleeve like Kate Middleton or Megan Markle, long sleeve wedding gowns are just the right choice for you. Some think that long sleeves, can be stuffy or matronly, but we're here to let you know, long sleeves are IN. Not all long sleeves are the same so we will break down the different options.

Or if you loved the classic illusion lace sleeves Kate Middleton wore on her big day then you will fall in love with Moonlight Collection style J6774. A long illusion lace sleeve wedding dress with an illusion bateau back, there is nothing not sexy and chic about this bridal dress. Great for either a warm spring wedding or a crisp winter wonderland ceremony, you'll love how comfortable and lightweight the sleeves will feel against your skin. And especially with the illusion details, you'll love the way it peaks through and the attention it draws from others. Read more at Moonlight Bridal…
As you look at your options, also pay attention to the type of fabric the sleeves have. You wouldn't want to choose a fabric that is uncomfy.
If you prefer short sleeves, the fabric may be of less concern. However, you may still want to explore all the available options and styles. This post may offer a few more styles than you've considered.
Layered Flutter Sleeves

There are plenty of reasons for preferring wedding dresses with short sleeves. From wanting to cover up a tattoo to a wedding in cooler weather to wanting something different from the sea of strapless, short-sleeved wedding dresses are a lovely, modern choice.

These tiny, layered flutter sleeves are perfect for a summer wedding and balance out the deep notched bodice and flowy, full skirt.

Fitted Cap Sleeves
Wedding dresses with short sleeves definitely don't have to be short on sultriness. This stunning, body-hugging gown features petite cap sleeves and an embellished neckline.

Scalloped Lace
Because princess wedding gowns already have so much coverage, it's easy for sleeves to add too much to the effect, leaving you feeling too covered up to really shine through. These scalloped lace sleeves are a terrific proportion for this voluminous gown. Read more at My Wedding…
Clearly, there are many options you can explore. The best part about short sleeves is that you can have them as an addition to your wedding dress. That is, you can adjust your sleeveless dress to have short sleeves.
Long and short sleeves, not your thing? How about the strapless or off-the-shoulder styles? One of these may just do the trick for you.
Strapless: The strapless gown has no straps, and is typically a sweetheart or straight across neckline…

Spaghetti: The spaghetti strap gown has delicate straps that add comfort without changing the style of the dress too much from a strapless gown…

Off-the-shoulder: The off-the-shoulder gown offers sleeves that dress part of the upper arms. This style has more material than the sweetheart but while still accentuating the collarbone and shoulders…

Sleeveless: A sleeveless gown does not have defined straps, rather the dress flows evenly from the shoulders to the hem. Read more at Woman Getting Married…
Whatever wedding dress style you choose, just make sure you feel great in it. Don't sacrifice your personal comfort for the sake of glam. You don't want to spend your entire special day feeling off-kilter because of your gown choice.
If you're looking for a bridal salon in the Charlotte metro region with every imaginable bridal dress option, New York Bride & Groom is stocked with a vast array of designer wedding dresses to choose from. You don't have to book an appointment to shop at our salon so stop by anytime. Our expert staff of bridal consultants will be here waiting to serve you.